PLEASE DON'T MENTION THIS ON SOCIAL MEDIA ANYWHERE, IF YOU KNOW ME IRL. NEED TO KEEP THIS QUIET FOR A WHILE LONGER AS IT ISN'T PUBLIC KNOWLEDGE YET.
THANKS.
*
After five weeks of waiting, negotiations, and a bit of to'ing and fro'ing, the hard copies of book contract arrived in mail today.
So tonight we drink a leetle champagne (it's the season, after all. Last night we had sparkling, because we were setting up the Christmas tree!) But tonight, it's real Champagne, for the signing of the contract. It's been a hardish longish road, though when I think about it, it was only 2008 when I got a bit more serious about my writing, and 2009 when got really serious and did the year-long course with the aim of producing a completed first draft of a novel by the end of it. So, what's that. Six years. and it's been hard work, I have really worked hard, and it's been fun and wonderful, and I've waited a lot too. But I am lucky because my persistence has had results.
I know people who aren't trying to do this (that is, publish a novel, in this country, with a conventional publisher) probably don't have any idea how hard it is, how it's not just a matter of good work being rewarded, or hard work being rewarded. There are so many other factors involved, that I had no idea about before. Until I learned about them. Things like thick-skins, patience, determination (read sheer bloody mindedness), luck, resilience, stamina. And people who don't know about publishing wouldn't realise how SLOWLY things move, even when going well.
They say it's always been hard to get published, and they say too that it's never been harder than now. Also what I'm writing - literary fiction - is the hardest genre of all. Publishers balk at it, it doesn't sell much.
But this is the best Christmas present I've ever had. Better even than my new purple Malvern Star when I was about ten. Better than the Totem Tennis. Better than the game I got when I was about nine, where there were a bunch of marbles and you set up this plastic channelling thing and a mechanism drew up the marbles and then pummelled them down onto three or four drum things that bounced them in a pattern. Better than the Crystal Cylinder two-tone windcheater; the brown bikinis with palm tree design, the board shorts. The skiffle board that got lost on its first outing at Waratah Bay. How do you lose a skiffle board? You leave it by the water's edge and run back to the towel to eat a sandwich or have a drink or dig in the sand. And then when you go back, it's just gone. Buried.
Today I floated in the bay for a while, with a friend, and we each had blow-up rings. She gave me the orange one, her favourite she said, but it kept deflating. When we walked back to the car there was a tumble weed rolling along the footpath.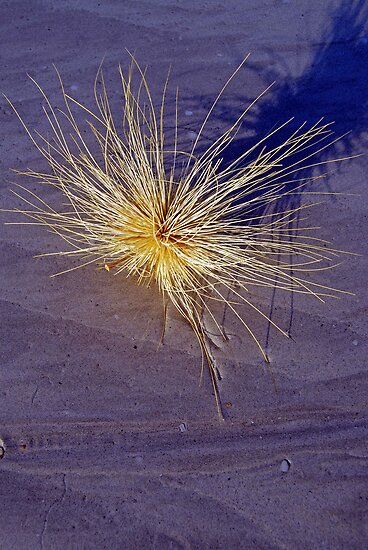 It felt like it came to meet us, to find her. It had travelled from the country and was rolling along. I told her she needed to take it, and think about it. That it had a message for her.
Sometimes I get very hippy when I am with her. We met at teacher's college years ago, and travelled together for five weeks in Indonesia in 1986 I think it was, not knowing each other that well. We don't see each other often but when we do it's great. She's having a hard time, with her kids, her husband, the rest of her family, including siblings and mother. We talked about our lives and shared our pain and good stuff and it made me realise, again, how much I have to be grateful about. When I talk about my family shit, at least my sister and I are talking and affectionate most of the time. We push through our negative stuff.
I'm not sure whether I'll post again before Christmas or over New Year (though I do fancy a bit of a New Year's Eve here on the blog, if I don't go out. Haven't had a party since the election that time.) So, what are you hoping for, in your wildest dreams? For yourself or for someone else. I'd love to hear it.