And then I do love the rest of the day as well.
Things that were good about this week:
Seeing this in the media
Here's another one:
Full story
here
. Although you know it won't really be the Full Story, because that can't really be written down anywhere.
Then there was this, a visual tree guide:
I hope you can make it bigger, it was bigger on the website.
There was some good writerly news that I mentioned might be imminent a little while ago. One of my short stories is being published in the Big Issue Fiction Edition, out on 16 August. Without knowing who else is in it, I'm sure it won't be hard for people to work out who I am. It's a bit exciting though which means there's been three bottles of champagne consumed this week. Not all on one night and not all by me.
That news came through on Wednesday, and that was the same afternoon my mum and Princess and I went to see Monet at the NGV. There is a pool with white bowls, much like the ones from my kitchen. The water moves around and the floating bowls chime against each other. It's gorgeous:
The Monet exhibition was beautiful. We went in at about 4pm and had an hour. It's a good time to go and often we make this type of stealth-approach on a Wednesday afternoon to see the exhibitions. They aren't crowded and it's a lovely mid-week treat. Loved seeing three of his paintings of London in smog/fog. Very Turneresque and just divine. Particularly this one: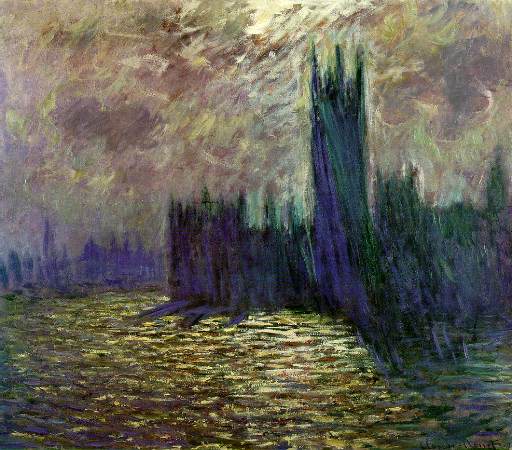 There was only one painting of the waterlilies and the iconic green bridge but that was well-advised I think, if it was deliberate. Everyone knows about the waterlilies and the little green bridge, so the
"Nymphaea" room was filled with paintings of the waterlilies (and even a few irises thrown in) and there was one in particular, round-framed and delicate. So pretty.
In one of the text boxes, a quotation from Monet:
It took me a while to understand my waterlilies.
This resonated with me so much, especially as this week I've been trying to work out what my second book-thing is 'about'. Who the fuck knows? I read today that EB White, when asked by his publisher why he chose to write Charlotte's Web gave a lovely response, describing his inspiration and why he chose to write about a pig and about a spider, then at the end he wrote:
I haven't told you why I wrote the book but I haven't told why I sneeze either. A book is a sneeze.
I don't know if either of these sentiments make much sense to you but they do to me.
This was good. A panorama pic of Tokyo and you can zoom right in. When I zoomed right in it made me think of some of the scenes in 1Q84 like when they go down a ladder off the side of the freeway. I think I want to read that book again. This week too I bought Murakami's
Wind Up Bird Chronicle
. I have a lot of books on standby. They are patient.
Tokyo zoom
Then this piece of excrement:
Misogyny lurks in Winton's world of fiction
Such bullshit but it niggled at me and I spent far too much time thinking about the reasons why she is wrong. Luckily, other far more articulate people than me got into the letters pages to rebuff this stupidity.
And finally, this was waiting for me at the back door when I got home yesterday. I know it's not right to call one of your children stupid but really, when there's a shed open and available for shelter. Also a fucking garage...